Sea's largest shareholder Tencent is expected to buy up to $50m of the new convertible notes.
Sea listed on NYSE / Photo credit: NYSE
More fundraising is on the horizon from Singapore-headquartered internet and gaming firm Sea, as the company announced today a a plan to offer US$400 million in convertible notes.
Tencent, Sea's largest shareholder, is expected to buy up to US$50 million of those notes, with terms such as the offer price yet to be finalized.
Convertible senior notes issued by a company are debt securities that can be turned into equity in the company after a predetermined amount of time. Holders of senior notes have priority claim in the assets of the company in the event of bankruptcy.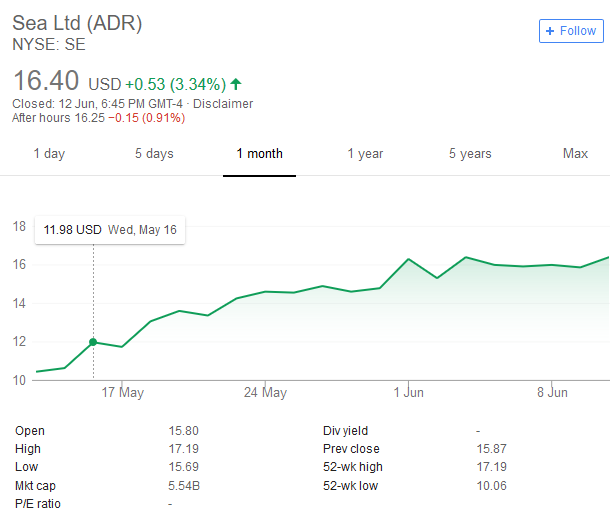 Sea's stock has enjoyed a boost in the last month, since the company published its Q1 2018 results. The group's total adjusted revenue grew by 81 percent year-on-year, buoyed by its ecommerce platform Shopee.
On the flipside, it reported losses of US$216 million, up from US$73.1 million during the same period last year. Sea's gaming arm Garena reported slowing revenue and flat user growth, which has some analysts concerned.
Shopee is expecting a gross merchandise volume of between US$8.2 billion and US$8.7 billion in 2018, an increase of 99.4 percent and 115.5 percent from 2017's figures.
Sea had a war chest of around US$1.17 billion as of Q1.
This post Sea is looking to boost war chest with $400m capital raise appeared first on Tech in Asia.