China's crackdown on short-video apps Kuaishou and Huoshan has been making headlines recently. But it's business-as-usual for the country.
Infographic by Andre Gunawan, Tech in Asia
Short-video streaming in China, an industry that is projected to harvest a quarter of the country's 1.3 billion population by 2018, has become the latest target of government censorship.
On March 31, state broadcaster CCTV scolded China's top micro-video app Kuaishou for allowing content depicting adolescent pregnancies, including images of teenage girls with bare, swollen bellies.
A few days later, the State Administration of Press, Publication, Radio, Film, and Television accused Bytedance, which runs video-sharing app Huoshan, and rival Kuaishou of broadcasting without audiovisual licenses. The country's media and entertainment watchdog ordered the apps to shut down accounts that "deviated from social moralities."
That was followed by a demand from the Cyberspace Administration of China, the country's top internet censor, for the besieged apps to halt algorithms that promoted offensive content.
While the crackdown casts a shadow over media providers, it's nothing new in China. Ever since the Chinese masses got wired, regulators have been diligently ensuring that the web is under state control. Part of it stems from the need to discipline a new sector, which usually "develops ahead of the corresponding regulation," observes Kelvin Jia, founding partner at Creation Venture Partners, a Chinese venture firm investing in online entertainment startups.
"Regulation usually arrives when [an industry] grows big in scale and influence," says Da Lai, an analyst at entertainment research firm EntGroup. "That's the same for every industry, not just online media."
China also wants a firmer ideological grip over what information its people consume.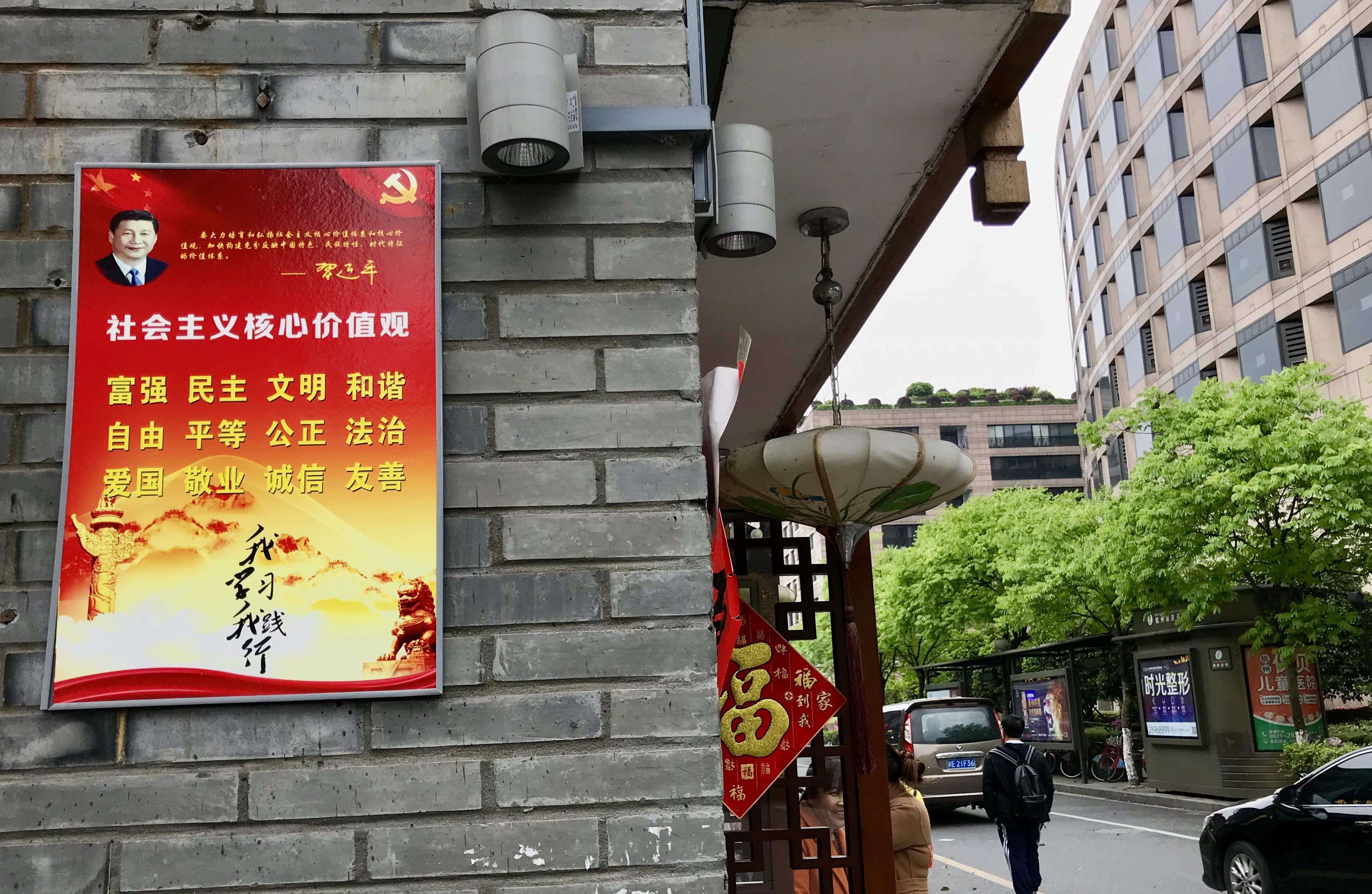 A propaganda poster about the Chinese Communist Party's "core socialist values" in downtown Hangzhou / Photo credit: Tech in Asia
"There is a tidal wave of choices out there for informing consumers, and the Party is as eager to ensure its message isn't drowned out in a flood of entertainment content as it is to ensure that a damaging story is kept under wraps," David Bandurski, co-director of the China Media Project, previously told Tech in Asia.
While content crackdowns in China are cyclical, "one can be forgiven for thinking that [they] are occurring with increasing frequency," says Greatfire's founder, who uses the pseudonym Charlie Smith as his site monitors and challenges the Chinese government's internet censorship.
Clever ways to clamp down
From Facebook-type video streaming to livestreaming and short-video apps, the government has been trying to wrest control from industry players.
It has done so, time and again, on the same grounds: the lack of a content license required to legally broadcast online and the proliferation of illegal content.
Acquiring this "internet audiovisual program transmission license" used to be relatively easy, with business-as-usual prerequisites like capital and technological capacities. But in 2008, the government mandated that all applicants must be wholly state-owned or controlled. It's a condition that's almost impossible to meet – most of China's online media companies are privately financed by domestic and foreign capital.
[Having] the flexibility to add subjects to the list of censored topics is important, and doing this under the guise of cracking down on 'immoral' material is a convenience.
In terms of what's being streamed, content providers have been castigated for pirated material, ponography, obscenity, violence, or things deemed harmful to state security. While some penalties may have been warranted, the government has loosely defined what's "immoral" to give leeway for material that it might consider inappropriate at a later date. Underage pregnancy is one example of something on the borderline: it's not outright illegal, but it could induce severe social problems.
"The Chinese authorities use different catch-all phrases, like 'morality' or 'picking quarrels', as the basis for enforcing censorship on certain subjects," says Smith. "While the position of the authorities has been clear on many immoral subjects like pornography for a long time, having the flexibility to add subjects to the list of censored topics is important, and doing this under the guise of cracking down on 'immoral' material is a convenience."
The punishment
Clampdowns can take the form of verbal warning, leading to voluntary purging of content that gives regulators headaches. In other cases, the state's iron hand imposes suspension of services or even permanent closures.
In 2008, the government shut down 25 video-streaming sites and publicly warned 32 others, including industry pioneer Tudou, which later became part of Alibaba's video unit.
All this "resulted in delay or withdrawal of 50 percent of the venture capital put into small and medium-sized video sites," according to an analyst at Analysys.

By 2016, regulators started to take aim at livestreaming. Shanghai alone saw the closure of 14 livestreaming platforms and over 1 million broadcaster accounts by local officials. Investments also faltered as a result, according to data firm iResearch.
Most recently, the removal of the "trending" session from Weibo – China's answer to Twitter – due to its "propagation of obscenity" has undermined the firm's revenues, someone at Weibo familiar with the matter told Caijing Magazine. "Trending" keywords are based on user searches but can also be bought by advertisers.
While evading the question of how media regulation could impact his firm financially, Doufu founder Wang Jiabin admits that government oversight "increases uncertainty" for his operation. Doufu is an online content platform aimed at China's funu or women who fantasize about men's love – a potential gray area.
Kuaishou and Bytedance have not responded to Tech in Asia's request for comment on the recent slapdown.
The survivors
For those who have survived state regulation, "there is countermeasure at the bottom to every policy from the top" – as a Chinese saying goes.
This is evident in firms trying to obtain the much-coveted audiovisual license. Youth-focused video platform Bilibili, for example, bought Shanghai Kuanyu and piggybacked off its license. In contrast, Bilibili's archrival AcFun was ordered to halt its services because it didn't have a license.
When it comes to content compliance, well-heeled players have an advantage.
For years, Chinese video sites thrived on rampant piracy. Since China started formalizing rules around copyright, licensing fees have skyrocketed and the industry is now left with a small handful of players with patrons like Baidu, Alibaba, and Tencent.
See: Baidu's iQIYI wants to become China's Disney, but it's up against tough rivals
The order to remove eye-catching but "vulgar" user-generated content, on the other hand, has prompted livestreaming platforms to seek professional video creators whose price tags keep soaring, says a report by Essence Securities.
At times, the crackdown could disrupt a company's value proposition.
From the outset, Kuaishou and Bytedance have boasted about their algorithms, which show users only what they like. For some, that means the type of trashy and kitsch content that has come under fire from the government.
In a public apology letter, Bytedance founder Zhang Yiming admitted that the company's AI strategy "overlooks the need of applying core social values to guide, to propagate positive energy, to meet today's demand, and to respect public order."
Kuaishou's CEO Su Hua echoed his competitor's confession and promised to "apply the right value to algorithms." Apart from the changes they will make to their algorithms, both firms have also hired thousands of auditors to screen illegal content.
New media forms will emerge to keep the government busy, and opportunists will keep testing the limit of media control as they eye China's US$87 billion online entertainment industry.
Just as Kuaishou and Bytedance began to focus on self-correction this month, the government also banned 57 livestreaming platforms for operating under fake licenses. It's a cat-and-mouse game, and content crackdown is here to stay.
This post Media regulation in China: Those who grow big get shot appeared first on Tech in Asia.