Meituan-Dianping has built an ecommerce empire in China around dining.
Meituan0Dianping's delivery staff / Photo credit: Meituan Dianping
This article is an adapted translation of the original story by tech writer Yin Sheng.
Just as what Didi Chuxing did for transportation and Ctrip for travel, Meituan-Dianping has built an ecommerce empire in China centered around dining that could be worth US$60 billion after its initial public offering.
Meituan-Dianping has already eclipsed its American counterparts Groupon and Yelp in market value. But how did it achieve this?
Here's the problem with Groupon and Yelp: they have failed to build business models that create added value. Varying consumer needs, high costs, and low population density have made it hard for American food-delivery firms to generate consistent revenue.
Meituan-Dianping's success is partly buoyed by China's unique characteristics. The country's population is almost five times that of the US, and its average urban population density is seven times higher. In addition, the relatively low labor cost and the underdeveloped offline services sector have allowed companies like Meituan-Dianping to expand.
How different is it from JD and Alibaba?
Just like JD, Meituan-Dianping relies heavily on a large logistics network, which raises its operational cost. Both firms face stiff competition from their peers. In the long run, Alibaba is likely to emerge as the single biggest challenger to both JD and Meituan-Dianping, potentially driving up the marketing cost for the two Chinese ecommerce giants.
But there's one thing that sets Meituan-Dianping apart from JD. Because the food-delivery company essentially connects dining businesses with customers, it does not need a physical space to store the goods. As a result, Meituan-Dianping is able to charge a fee to both sides because it gives consumers convenience while allowing businesses to take online orders without added logistical costs.
For JD, it's a different story. Since it sells mostly standardized products like home appliances, this creates a relatively transparent pricing mechanism that will limit its ability to secure higher commissions and profits.
Meanwhile, products from the services and dining sectors – many of which are owned by small businesses – are far from being standardized. The flexibility allows Meituan-Dianping to charge higher transaction fees. Last year, its revenue booked per yuan of transaction (or monetization rate) stood at 9.5 percent compared to Alibaba's 3 percent.
Meituan-Dianping's business model resembles Alibaba's, but the difference lies in how Alibaba's profits come from its own manufacturing of products as well as third-party sellers. It doesn't have to worry too much about when these products are created and if there's a supply crunch. However, Meituan-Dianping cannot ignore these issues as it must match the capacity of the dining businesses to the preferred time slots of the customers. It needs to be in sync with when customers want to eat.
Huge client base and transactions
Judging from Meituan-Dianping's prospectus, the company has the potential to become an ecommerce platform that boasts a massive customer base and sellers with high transaction frequencies.
Large number of users
In 2017, Meituan-Dianping had 310 million transacting users, marking a 20 percent increase year-on-year. In December last year, it had 289 million active users.
These numbers are on par with China's biggest ecommerce players. JD had 292 million active users, up 29.1 percent from the same period a year earlier. For Alibaba, the number was 515 million, up 16 percent year-on-year. Didi has 450 million active users a year.
High frequency
In 2017, Meituan-Dianping completed 5.8 billion transactions, with 18.8 transactions per user. In comparison, JD's translations per user was 6.8 to 8.5 while Didi's was 16.5.
Meituan-Dianping's delivery staff
Last year, 44 million active businesses signed on to Meituan-Dianping – a scale that only Taobao can match. In the fourth quarter of last year, Meituan-Dianping had 531,000 active delivery staff members.
Beyond achieving a large volume of orders, the company has also invested in a payments system, as well as supply chain and financing tools. Last year, it opened its first brick-and-mortar store in Beijing as part of its efforts to draw offline customers.
Can it stay profitable?
In short, Meituan-Dianping is trying to build a massive empire centering around dining. But the ultimate question for the company is whether it can remain profitable in the long haul.
Let's revisit the landscape.
Content providers, social networking sites, and ecommerce platforms are the three most common forms of online entrepreneurship. Sustaining these businesses are transactions fees and advertising revenues. Increasingly, the giants in these areas have been consolidating their dominance while seeking new areas for growth.
The consequence is that many new startups are struggling to make a dent. This is one reason why there are so few new players that could effectively build a sustainable business.
This bodes well for Meituan-Dianping.
Among its revenue streams include commissions, online marketing and advertising, and other services. Commissions are linked to transaction volumes. Marketing and advertising are based on the activity level of users. Meituan-Dianping's other services include cloud ERP, supply chain tools, and more.
Its income has expanded rapidly. In 2017, it was US$5.1 billion, compared to merely US$600 million in 2015. In the first two years, hotel and tourism were the main growth drivers. But food delivery took over in 2017. As the company forays into transportation and ride-sharing, new areas of growth are likely to emerge.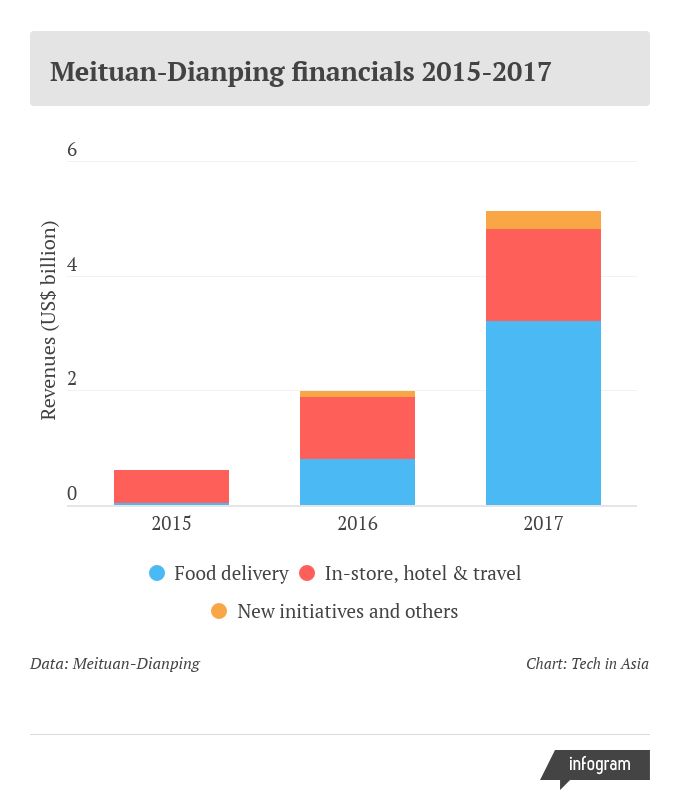 Unfortunately, Meituan-Dianping's gross margin has been taking a hit as costs for delivery workers have fluctuated. Whether the company will be profitable in the long run will be determined by its gross margin to a large extent.
Another key factor will be Meituan-Dianping's relationship with Tencent, the company's biggest shareholder. On one hand, Tencent can drive online traffic to the food-delivery company. On the other, Tencent could also be eyeing a slice of the cake and cutting market share away from Meituan-Dianping in retail and app development.
As Meituan-Dianping competes directly with Didi Chuxing, it could see an uptick in operational cost. But the new venture could also change its gross margin structure. It needs to calibrate how revenue will be generated.
The upcoming initial public offering could help it strike a balance between its short-term goals and long-term vision. In particular, an IPO could stabilize the company when the overall environment becomes uncertain. It could also offset side effects if earlier investors withdraw.
As of December 31, Meituan-Dianping had US$2.9 billion in cash and cash equivalents. Its business model allows the company to secure credit from the merchants operating on its platform as well as from advance payment from the users. That means Meituan-Dianping has enough cash to create a long-term strategy that could secure its future.
This post Behind the rise of Meituan-Dianping, China's food-delivery giant appeared first on Tech in Asia.